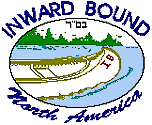 ...And Now For Something Really Different
By Dr. Chaim Broner
I stumbled upon an article in THE JEWISH PRESS, about a stress free camping, canoeing and fishing trip in northern Minnesota.This seemed like a dream come true ... no telephones, no electric... nothing but nature, a minyan, the best bass fishing in the U.S. and gourmet glatt kosher meals.It seemed idyllic. So I called up Rabbi Moishe "Minnesota" Kasowitz, who heads Inward Bound.
Stress free it is! Just pack your bags with the recommended clothing list and leave everything else to Rabbi Kasowitz. All camping, canoeing and fishing equipment and licenses are taken care of by the rabbi. And can his wife cook!
All glatt kosher meals, gourmet breakfasts through dinners, are served in the wilderness. Omelets in the morning, fresh caught fish for lunch (or cold cuts in case of "emergencies"), hearty soups, stuffedcabbage, chow mein or campfire chicken for dinners. Even one of our vegetarian campers was catered to.
No detail is left unattended, from the jalepeno mustard to the maraschino cherries on the tofutti sundaes.
But let's not forget the fishing. This was the best bass fishing I have ever experienced, not to mention the northern pike and walleye.The Boundary Waters Canoe Area is pristine, highly protected and campers truly perserve and respect the environment.
Before we established camp, and after we broke down camp, there was no shred of evidence of human invasion.
And how about the minyanim three times a day (with Torah reading Monday and Thursday)? The dvar Torah at each opportunity, the campfire stories and niggunim under the magnificent showing of the Northern Lightsaccompanied by the call of the loons brought together nature and Hashem. I can't speak highly enough about this magnificent experience.
I'm already making plans for next summer's trip. If any of you city slickers want an experience you'll rave about, give strong consideration to Inward Bound, and give Minnesota Moishe a call.

Back to the main page on the Boundary Waters
All the way to the INWARD BOUND main page
INWARD BOUND Comment/Questions Form

Designed by: Internet Easy-Access, Inc.
copyright 1997-2002